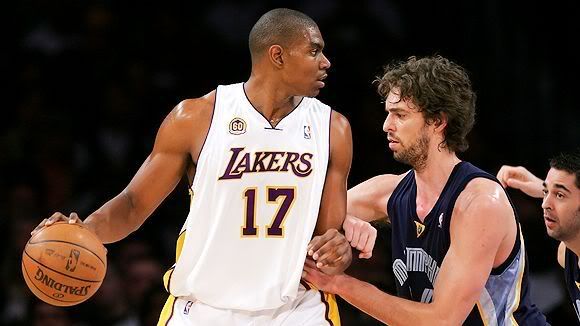 The Past Off-Season to Now Season in Basketball has been hectic especially for the LOS ANGELES LAKERS.
It is now 2008 Mid-Season for the Los Angeles Lakers who were playing the best basketball of the Post-Shaq era(no pun intended) before the injury of Young Up & Coming Star Andrew Bynum(pictured above on the left). They held 1st seed in the tough west for maybe 5 days max after the injury and now have slipped to the weary 5th seed which is the toughest match-up to win when going up against a formidable opponent at 4th or vice versa. So what does Mitch Kupchak and staff decided to do? The best possible thing for not necessarily replacing.........well yea, the biggest 1st round bust of the past decade Kwame Brown with a once Rookie of the Year and Former All Star Selection Pau Gasol (Pictured above on the right).
This trade may in fact keep Kobe Bryant and if not at least prepare for his departure (quite unlikely due to Lakers will have the most to offer money and talent wise). As a die-hard Lakers Fan lets see you match-up against us now Phoenix Once we are healthy.(hahaha) The Lakers now have two of the young big man hopefuls on their team and now have a line-up as big as the Twin Towers in the late 90's (Tim Duncan & David Robinson). The Front Court for LA will now contain a 7 Foot Center a 7 Foot Power Forward a 6'11 Small Forward. The Back Court will also have the best player in basketball Kobe Bryant and the team leader Derek Fisher who is also being a great mentor for Jordan Farmar.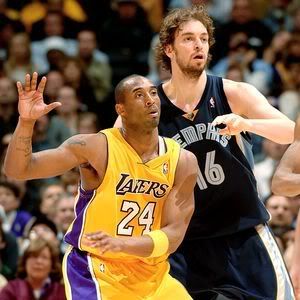 A healthy Laker team is now the fear of all NBA teams especially the declining elite. So lets fast forward to maybe 2009 when the Lakers win the championship and shut up all the talk of they should have kept Shaq, or Kobe wants to be traded, or Kobe will opt out, and band wagon fans once again embrace "Showtime".